My Blog
Posts for: December, 2020
By Wikle Family Dental
December 21, 2020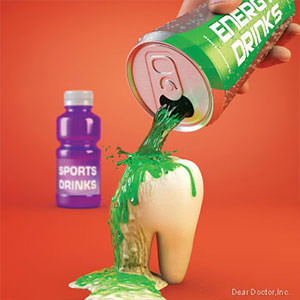 Although energy drinks are but a blip on the historical timeline compared to coffee or tea, they've displaced these traditional stimulants among nearly half of today's adolescents and young adults. But these sweetened "processed" drinks are also controversial among healthcare experts—particularly the effect they may have on dental health.
Besides the added sugar found in many energy drinks—a prime food source for harmful bacteria—many energy drinks and their cousins sports drinks contain significant amounts of acid. High levels of acid soften and erode tooth enamel, which can lead to tooth decay.
During one experimental study, portions of tooth enamel were subjected to a number of name-brand energy and sports beverages. Over the course of a few days, researchers recorded significant enamel loss, especially involving the energy drink samples.
Abstaining from both energy and sports drinks is a sound way to avoid enamel erosion (the best hydrator, it turns out, is simply water). But if you do wish to continue consuming these beverages, here are a few common sense precautions for reduce the risk of harm to your teeth.
Partake only at mealtimes. Among its many abilities, saliva is able to neutralize oral acid and bring the mouth to a neutral pH level within 30 minutes to an hour. But if you're sipping on high-acid beverages throughout the day, your saliva may not be able to compensate effectively. Drinking energy drinks only during a meal helps saliva do its acid-buffering job better.
Rinse with water afterwards. Rinsing with a little water after eating or drinking something acidic can help reduce the pH levels in the mouth. That's because water is by and large neutral on the acidic/alkaline scale. Because it's not adding more, rinsing with water dilutes any concentrations of acid that may still be lingering in your mouth.
Don't brush immediately. Brushing is essential to overall hygiene, but if you do it right after you eat or drink, you could be doing more harm than good. That's because elevated acid levels that naturally occur after consuming foods and beverages can temporarily soften and demineralize the surface enamel. Brushing could remove microscopic bits of softened enamel. If you wait an hour to brush, you'll be giving saliva time to "re-mineralize" your enamel.
If you would like more information on the role of beverage acid in dental disease, please contact us or schedule an appointment for a consultation. You can also learn more about this topic by reading the Dear Doctor magazine article "Think Before Your Drink."
By Wikle Family Dental
December 10, 2020
Dorit Kemsley isn't shy. Best known to fans as an outspoken and sometimes outrageous cast member of the reality show Real Housewives of Beverly Hills, Kemsley is never reticent about "mixing it up" with fellow castmates or their significant others. Recently, though, she confessed to something that left her less than confident: her smile.
Kemsley has been self-conscious about her smile because her teeth looked noticeably short, worn down from an unconscious habit of grinding her teeth. Although teeth grinding is more common among children (who normally grow out of it by adolescence), it can persist into adulthood, usually from difficulties managing high stress (a likely component in the fashion designer/reality show star's busy life).
Stress-induced teeth grinding can occur during waking hours or, more likely, during deep sleep. The accumulating, long-term effects from the habit can lead not only to worn teeth but to weakened gum support, a high risk of tooth fracture or jaw pain and dysfunction.
So, how do you know if you grind your teeth, especially if it's only happening at night? Typical signs include sore jaws after awaking from sleep, increased tooth pain or sensitivity or, like Kemsley, a noticeable difference in your tooth length. Your family or sleeping partner may also complain about the "skin-crawling" noise you make during the night.
There are ways to lessen the effects of teeth grinding. The first step is to have us verify the underlying cause for the habit. If it's tension from stress, then you might reduce the habit's occurrences by learning better stress management or relaxation techniques through individual counseling, group support or biofeedback therapy. We can also fit you with a mouth guard to wear at night or through the day that reduces the force generated during teeth grinding.
And if you've already experienced accelerated tooth wear like Kemsley with a resultant "small teeth" smile, you might pursue the same solution as the RHOBH star: dental veneers. These thin, life-like wafers of porcelain are custom-made to mask imperfections like chips, staining, slight tooth gaps and, yes, worn teeth.
Veneers are often less expensive and invasive than other cosmetic techniques, yet they can have a transformative effect, as Kemsley's Instagram followers have seen. In conjunction with other dental treatments needed to repair any underlying damage caused by a grinding habit, veneers are an effective fix for the smile you present to the world.
If you suspect you may have a grinding habit, see us for a complete examination. From there, we'll help you protect your teeth and your smile.
If you would like more information on teeth grinding habits and their effects, please contact us or schedule a consultation. To learn more, read the Dear Doctor magazine article "Teeth Grinding."